Offer accommodation units
Sorry, but for chosen date range and number of persons we cannot offer accommodation for this object. For given period minimum nights is 2.
Accommodation units
Contents: • Kitchen: Kitchen accessories, Kitchen glasses, Refrigerator • Bathroom: Towels, Hair dryer, Shower • Bedroom: Linen, Clothes rack • Livingroom: Plasma TV, Internet • Views: City view • Other: Terrace, Balcony, Carpeted
Contents
Smoking is allowed
Accommodate children
Object has heating
Air conditioner
Parking available
Nearby
Shopping and Foods
Restaurant

Dukat (50m)
Dobra Klopa (100m)

Caffee Bar

Di Milano (150m)
Svajcarija (300m)

Supermarket
Market
Activities
Pool

Solaris (400m)
Klobuk (4km)

Aquapark
Reviews
9.0 / 10
Service
8.8/10
Cleanliness
7.6/10
Sleep quality
9.6/10
Location
9.4/10
Rooms
9.2/10
Kindness of staff
9.6/10
Dada, Monday, 8 August 2022, Apartmani Kesten
.
9.3 / 10
Mira, Monday, 18 July 2022, Apartmani Kesten
Vlasnik amartmana je jako ljubazan covek koji ce vam za sve izaci u susret
9.7 / 10
Avqv, Wednesday, 6 July 2022, Apartmani Kesten
Ok.
8.7 / 10
Zoran, Wednesday, 5 January 2022, Apartmani Kesten
Sve je bilo vrhunski!!!
9.7 / 10
janoskovac1@gmail.co, Monday, 13 July 2020, Apartmani Kesten
Mogu samo da preporucim osobama ko zeli pravi odmor na miru, a uz to prodavnice su blizu i centar i setaliste. Sve je bilo super.
7.8 / 10
APARTMENTS KESTEN - VRNJACKA BANJA Vrnjačka Banja
Newly equipped "APARTMENTS KESTEN" are located in the center of Vrnjacka Banja. We have 4 modernly equipped apartments P32m2 of accommodation capacity up to 4 adults. Apartment facilities;...
Need help?
We will be more than happy to assist you! Our team will answer your calls every working day from 9 am to 5 pm and Saturday 9 am to 2 pm.
Nearby objects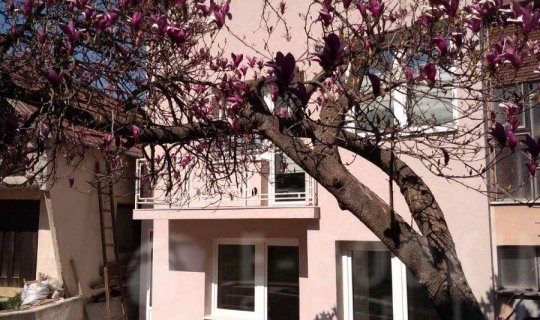 Why book with us?
Several thousands of accommodation objects